Screw Out Access Plates

The Beckson Screw-Out Access Plate was designed to provide access without the use of tools, with a single non-jamming (no cross-thread), extra strong, self-cleaning buttress thread. They incorporate a self-aligning center and a innovative gasket to assure a watertight seal. Our clear center plates permit observation without the necessity of removing the center. Screw-out access plates should be used in areas where change in air pressure can occur.

Available in 4" , 6" or 8" I.D Models.

4" Standard pack = 100 each
6" Standard pack = 50 each
8" Standard pack = 25 each
High Torque Access Plates
Beckson screw-out access plates made their way in many different operating environments. The customers loved the durability and watertight seal, but after high pressure conditions the center needed help to be opened. Beckson designed this high torque center to overcome this problem. You still have the clarity and toughness of the standard center, but with deeper finger holes and a full pry channel to help sealing and unsealing the unit.

Available in 6" I.D Models.
6" Standard pack = 50 each .

More images here
Pry-Out Access Plates
Beckson developed the first pry-out access plate. These access plates are designed with an extra heavy 0-ring to assure a tight fit. Plates are available with smooth and non-skid finishes for different installation requirements. Our clear center plates permit observation of controls or inspection without the necessity of removing the center. These plates are not designed to be installed in areas where internal back pressure or oil canning is present.
Available in 6" or 8" I.D Models.

6" Standard pack = 50 each .
8" Standard pack = 25 each
8" Screw out Access Plates



This is the newest addition to the Beckson Access Plate series. A full 8" pass through I.D. with a secure, non-jamming, self-cleaning buttress thread.
US Patent No. 6,364,146

8" Standard pack = 20 each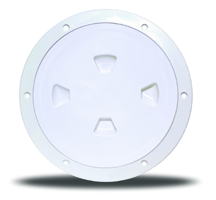 8" Pry-out Access Plates



The 8" Access Plate also comes in a pry-out plate. The center surface can be either a clear or opaque smooth surface or a non-skid dimple in opaque.

8" Standard pack = 25 each
Thin Ring Access Plates
In some locations, space may be extremely limited. Beckson has developed outside rings for the 4" and 6" screw out and 6" pry out models at least 1/2" smaller in diameter for these applications. These Thin Ring Access Plates feature fastenerless mounting, but may be drilled and counter bored for normal pan head screws for mounting.

4" Standard pack = 100 each
6" Standard pack = 50 each
Twist-Out Access Plate AP50 Series
The overlapping cover conceals fasteners for a clean modern look. This low profile access plate is self centering, and quickly locks in place with a 1/8 twist. Three separate sealing areas, each designed to chase liquid away from the plate opening assures a tight closure. The bayonet threads are non-jamming, self-cleaning and lift the center for easy removal.
Design Patented
O.D. 7" I.D. 5" Hole Cut .5.5"

5" Standard pack = 100 each
Access Plate Chain APAC08

This stainless steel bead chain installs on the center and then attaches to the rim to prevent loss of center.
Custom lengths available.

Standard pack = 100 each
Standard Sizes for Screw out and Pry-Out Plates - Standard Trim Ring

| | | |
| --- | --- | --- |
| 4" Access Plate | 6" Access Plate | 8" Access Plates |
| Standard Trim Ring | Standard Trim Ring | Standard Trim Ring |
| O.D. 6-1/8" (15.6 cm) | O.D. 8-1/8" (20.6 cm) | O.D. 10" (25.4 cm) |
| I.D. 4" (10.2 cm) | I.D. 6" (15.2 cm) | I.D. 8" (19.4 cm) |
| Hole Cut 4-1/2" (11.4 cm) | Hole Cut 6-1/2" (16.5 cm) | Hole Cut 8-3/8" (21.3 cm) |
| Fasteners (6) #8 Pan Head | Fasteners (6) #8 Pan Head | Fasteners (6) #10 pan head |
Not all access plates are created equal.
Beckson Manufacturing is committed to finding the right access plate for you based on your application. Please be aware that all not all access plates are equal or made the same. Please review the below listed base materials. If the material is not right for you, or you have a specific application with questions, please call us for additional information.
ASA Access Plates
Durable, proven and UV stabilized, ASA is is our standard material for access plates. ASA provides a high quality finish to Beckson parts. While ASA is widely used in many applications, it is not suitable for all. Applications involving contact with solvents should consider Beckson Access Plates made from polypropylene.
Applications using ASA ring and clear centers that come in contact with with solvents should contact Beckson for additional information.
Polypropylene Access Plates
In 1972, Beckson introduced the first polypropylene access plates to manufactures / OEM's. The principal advantage of polypropylene is its resistance from solvents.